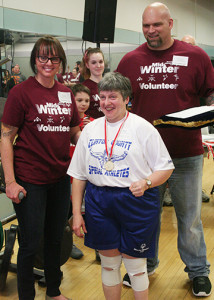 Special Olympics Iowa programs could not exist without the generous volunteer spirit of so many Iowans. Volunteer roles are based on your interest and availability, as well as the needs of the teams and programs. Volunteer assignments can include:
Board Members
Area Directors
Coaches/Chaperones
Trainers
Medical Volunteers for Healthy Athlete Clinics
Competition/Special Event Committees
Officials
Day-of Event Volunteers
Photographers
What type of volunteer are you?
Day-of Event Volunteer – Anyone who has limited contact with athletes or who have contact with athletes accompanied by coaches or chaperones. All day-of event volunteer activities take place the day of a sporting or fundraising event.
What Events Can I Volunteer For?
Register to be a volunteer at the 2017 Summer Games! 
For questions or to register a group of 10 or more, please contact:
Bryan Coffey, 515-986-5520 x119.
"Because as a volunteer you get far more out of it than you come close to giving.  The athletes have so much to offer and so much to teach, Lessons in teamwork, encouragement, positive attitude, perseverance only to name a few.  They change me for the better far more than I could ever hope to change them."  
        -Mary Buscher, Sammons Financial Group