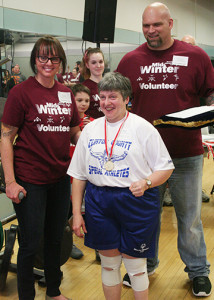 "Because as a volunteer you get far more out of it than you come close to giving.  The athletes have so much to offer and so much to teach, Lessons in teamwork, encouragement, positive attitude, perseverance only to name a few.  They change me for the better far more than I could ever hope to change them."
                  -Mary Buscher, Sammons Financial Group
Special Olympics Iowa programs could not exist without the generous volunteer spirit of so many Iowans. Volunteer roles are based on your interest and availability, as well as the needs of the teams and programs.
Questions? Contact Volunteer Director, Elin Phipps, at ephipps@soiowa.org or 515-986-5520.
Types of Volunteers
Volunteer assignments can include:
Coaches
Competition Volunteers
Fundraiser Volunteers
Medical Volunteers for Healthy Athlete Clinics
Competition/Special Event Committees
Officials
What Can I Volunteer For?
Athlete Leadership Program – Public speaking and leadership training for athletes like the Global Messenger program that boost self-confidence and self-esteem.
State Championships – Special Olympics Iowa hosts eight statewide competitions each year, including: Winter Games, Mid-Winter Tournament, Summer Games, State Softball, State Equestrian, State Flag Football, State Volleyball and State Bowling.
Challenge Days – Unique to Iowa, these competitions allow athletes with severe and profound intellectual disabilities to participate in team and individual sports.
Fundraising Events – Polar Plunge and other Law Enforcement Torch Run events along with golf tournaments, dinners, etc.
Healthy Athletes – A screening program designed to improve overall health and fitness for Special Olympics athletes.
Local/Area Competitions – We have divided our state into 11 areas, with area competitions happening in each that athletes compete in before advancing to state competitions.
Unified Sports – Competitions that join people with and without intellectual disabilities on the same team.
Unified Champion Schools – Brings together students with and without intellectual disabilities through education, sports and youth leadership to provide them with the knowledge, attitudes and skills necessary to create and sustain school communities that promote acceptance and respect.
Young Athlete Play Days – Provides play activities and socialization opportunities for children with intellectual disabilities between the ages of two and seven.