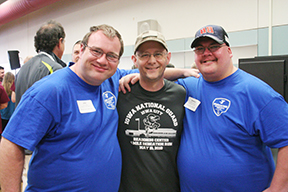 Thank you for your interest in coaching for Special Olympics Iowa! Being a Special Olympics coach can be one of the most rewarding experiences of a lifetime – for both you and the athletes you mentor. Special Olympics coaches often find that the personal rewards received are equal to or even outweigh the benefits they offer the athletes.
Coaches give Special Olympics athletes the most immediate awareness of their own worth, ability, courage and capacity to grow and improve.
Become a Special Olympics Iowa Coach

Complete the following steps for your Class A Volunteer credential (complete every 3 years unless noted otherwise):
–Class A Application
–Protective Behavior Slides
–Protective Behavior Quiz
–General Orientation Training (one time only)
–General Orientation Quiz (one time only)
–Coach/Chaperone Code of Conduct Form
Send all completed forms and quizzes to classa@soiowa.org.
Complete the following online trainings and send certificate of completion to coachtrainings@soiowa.org:
Complete a SOIA Sport Online Training for each sport you train athletes in.
Review Coaches' Guide. Print off sport rules and forms as needed.
Find your area for Area Director contact information and area competition information.
For questions, or to request a face-to-face meeting, contact your Regional Director:
Bruce Wilson– West Regional Director
(Areas: West Central, South Central, Southwest, Northwest)
Katie Rasmussen– North Regional Director
(Areas: Central, North, North Central, Northeast)
Erin Birkenholtz– Southeast Regional Director
(Areas: East Central, East, Southeast)