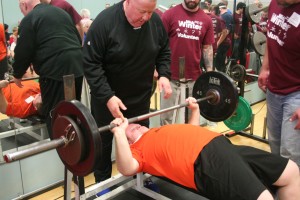 The Mid-Winter Tournament is Special Olympics Iowa's own version of March Madness. Held annually in Iowa City, more than 1,000 athletes and Unified Sports partners can be seen competing at the University of Iowa Field House and Iowa City West High School.
Healthy Athletes screenings will also be provided to athletes by healthcare professionals for eyesight, dental, hearing, overall health and fitness and more.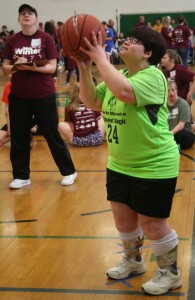 Event Details
Date: March 10-11, 2017
Registration Deadline: February 13, 2017
Location: Iowa City (University of Iowa, Iowa City West High School, Iowa City High)
2017 Mid-Winter Tournament Handbook
Schedule of Events
For more details on basketball skills, visit your local area page.
Event Links
Mid-Winter Tournament Competitions
An athlete may compete in one sport at Mid-Winter Tournament (click on the sport name for official rules):
Basketball

Basketball Skills
Team Competition
Half court 3 on 3 competition

Cheerleading
Gymnastics – Artistic

Female Events:

Balance Beam Level I, II and III
Floor Exercise Level I, II, III and IV
Vault Level I, II and III
Uneven Bars Level I, II and II

Male Events:

Floor Exercise Level I, II and III
Parallel Bars Level I and II
Vault Level I and II
Horizontal Bar Level I
Pommel Horse Level I
Rings Level I

Male and Female Events:*

Level A and B Vaulting
Level A and B Balance Beam
Level A and B Floor Exercise
Level A and B Single Bar
*Level A and B competitors may need manual assistance to perform these routines.
Gymnastics – Rhythmic (Male and Female)

Ball Level I and II
Hoop Level I and II
Ribbon Level I and II

Powerlifting

Bench Press
Dead Lift
Combination (total weight of bench press and deadlift)
Mid-Winter Tournament Sponsors