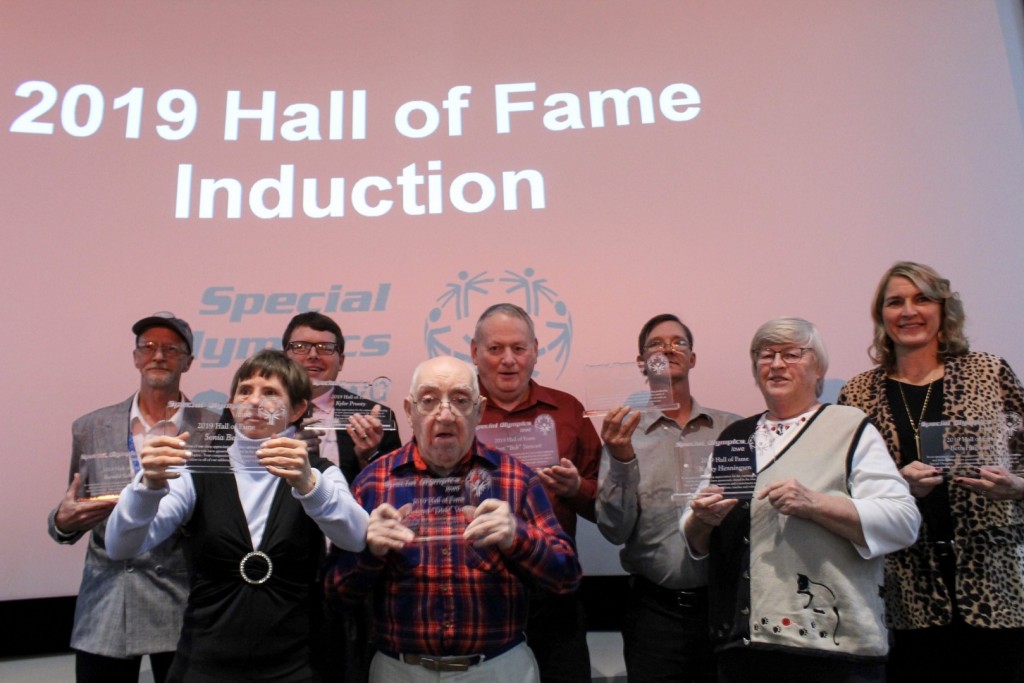 Back row: left to right, Ron Schmidt, Kyler Prunty, Bob Steward, John Barker, Beth Hagedorn.  Front row: Sonia Bellile, Richard "Dick" Vetter and Kathy Henningsen.
    2018
Sara Cummings
Angela Oberlander
Jesse Pease
Nancy Shannon
Ray Strekal
Rhonda Thornton
    2022
Kim Lively
Jody Sheriff
Bobby Johnson
Suzie Moorman
Joe and Eileen Wilson
Ron Miller
Deb Eldred
Randy Spurr
HISTORY:  
The SOIA Hall of Fame was created in 2018 by the Board of Directors as a way to recognize the longevity and achievement of athletes and volunteers with the organization.  A voting committee, appointed by the Hall of Fame Chair, is responsible for reviewing all nominations and voting for the inductees.  A permanent display will be housed at the Special Olympics Iowa kiosk at the Hall of Pride in downtown Des Moines and Special Olympics Iowa State office in Grimes will also be host to a display.
CRITERIA:
Athlete Prerequisites: 
Athlete has participated for a minimum of 10 years.
Athlete must have illustrated dedication to sport-specific training and competition.
Athlete has demonstrated positive sportsmanship conduct.
Athlete has displayed a positive attitude for his/her events thereby encouraging others to participate in that particular sports.
Athlete demonstrates a significant positive impact within the Special Olympics movement.
  Volunteer Prerequisites (includes coaches, event volunteers, LETR, etc):  
Volunteer has had no less than 10 years of ongoing involvement in Special Olympics.
Volunteer demonstrates behavior and conduct associated with integrity and sportsmanship.
Volunteer has demonstrated involvement on various levels.
NOMINATIONS:  Nominations must be postmarked by October 18.  They will be sought via the Special Olympics Iowa mailing list (Board Members, Special Olympics Iowa Staff, Area Directors and Newsletter) and social media promotion.  Previous nominees will not automatically be forwarded to the next award year.  Click here for an Athlete Nomination Form or a Volunteer Nomination Form.
VOTING COMMITTEE:   The Voting Committee will be composed of a maximum of seven members.  The Hall of Fame chair will select members of the Voting Committee.  This Committee will include Special Olympics Iowa staff member(s), Special Olympics Iowa Board of Director(s), Parent(s) of an athlete, one past inductee of the Special Olympics Iowa Hall of Fame (will be added after year one).  The voting committee can change members from year to year.
VOTING PROCESS:  Each person on the Voting Committee will have the opportunity to read every nomination form. Upon reading the forms, each person will cast a vote.
INDUCTEES:   No more than six (6) nominees will be chosen in one year.  The inductees will be announced at the SOIA Holiday Party.  The Holiday Party is usually at the beginning of December, the actual date of the event will be released in the coming months.
AWARD:   Each recipient will receive a plaque, their name will be recognized on the SOIA kiosk at the Hall of Pride along with a plaque at the SOIA State Office.