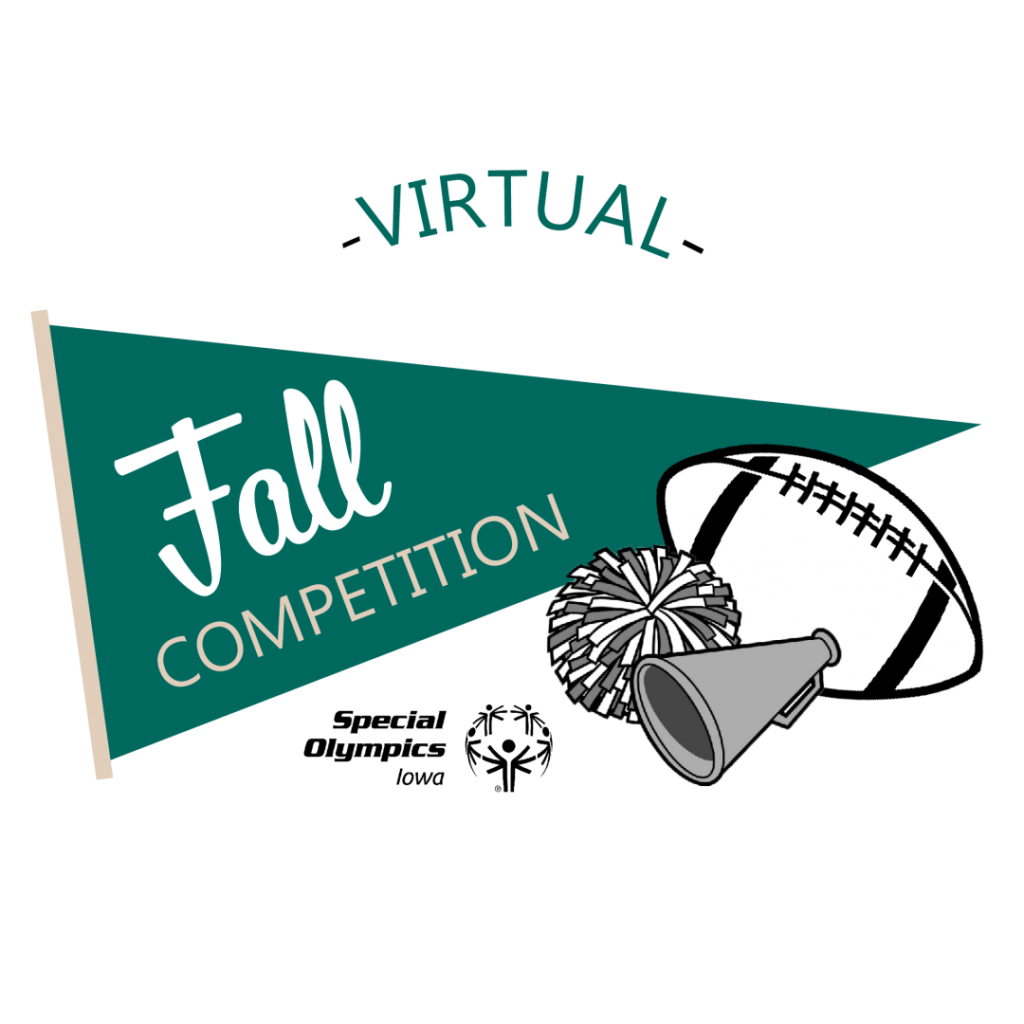 Special Olympics Iowa invites all members of the Special Olympics Iowa community to join in on the fun by competing in the competition and joining us for the Virtual Fall Competition Series sessions.
Important Dates
At-Home Competition: October 1 – 18
Scores Due By:  October 19
Results Announced: October 23
Virtual Series: October 22 and 23
Awards Mailed Out: The week of October 25 – 31
Here's How it Works
Choose Your Events! For the 2020 Virtual Fall Competition, individuals can participate in cheerleading and football skills events.
PRACTICE! After reviewing the list of competition events, begin practicing those events that you want to compete in.  
SUBMIT YOUR RESULTS! We encourage you to submit times, scores, and performance recordings for all of the events you practiced.  All scores are due October 19.
Important Links
General Information
Competition Event Breakdown
Time Out Cheer Example
Band Dance Example
Zoom Tutorial (Computer & Phone)

Virtual Fall Competition Series
All are invited to join us for the Virtual Fall Competition Series!  Get more information on all the sessions below.
Thursday, October 22, Virtual Fall Competition Series Sessions
Wheel of Fortune @ 1:00 p.m.
(Zoom)
Session attendees will spin our wheel of fortune for the duration of the session. Each color on the wheel will have a different cheer or football prompt for the spinner to accomplish.
Register 
Here
Pumpkin Decorating Gallery @ 3:00 p.m.
(Zoom)
We want to see your pumpkin creation!  Join us for a virtual pumpkin decorating gallery featuring pumpkin carvings and coloring pages.
Download the coloring pages here: Happy Halloween, Trick or Treat
Register 
Here
Halloween Costume Showcase @ 4:30 p.m.
(Zoom)
Is your Halloween costume cute, scary, funny…we want to see!  Put on your costume and join us for a costume showcase.
Register 
Here
Talent Show @ 6:00 p.m.
(Zoom)
Join us for a talent show featuring the many talents of the Special Olympics Iowa athletes and Unified partners. The talent show will be hosted by the men of the University of Iowa Phi Gamma Delta chapter.
*If you are interested in participating in the talent show, please email Lexxi O'Brien at lobrien@soiowa.org.
Register 
Here
Friday, October 23, Virtual Fall Competition Sessions
K9 Training @ 11:30 a.m.
(Facebook)
Join us for a pre-recorded video of the Warren County Sheriff's K9 training.
Facebook
Athlete Social Hour @ 4:00 p.m.
(Zoom)
Join Dawn Criss, Senior Director of Sports and Programs, for a fun-filled hour of socializing with fellow athletes.
Register 
Here
Competition Results @ 5:00 p.m.
(Facebook)
*Drumroll…..join us for the announcement of the Virtual Fall Competition results (this could be you!).
Facebook