On this page, you will find resources and guidance materials as we navigate our return to play and team activities as restrictions shift in our state.  More information will be available as restrictions continue to shift.  As always, our number one priority is the health and safety of our athletes.
FOR DELEGATIONS
All Special Olympics Iowa delegation managers are required to contact our COVID-19 representative, Dawn Criss (contact information below), after reviewing the guidelines.
STEPS TO RETURN TO PLAY

Review all Return to Play Guidelines
Complete the COVID-19 eLearning Course
Contact Dawn Criss to discuss your delegation's return to play
Begin practicing in groups of 50 or fewer
DOWNLOADABLE FILES

Return to Activities Protocol
Participant Code of Conduct & Risk Acknowledgement Fillable Form
Screening & Tracking Report
FAQs Sheet
Higher Risk Fact Sheet
Return to Play Field Signs
COVID-19 eLearning Course
RESOURCE LINKS

Help During the Crisis
Preventing the Spread of COVID-19
COVID-19: What you Need to Know
COVID-19: Training in a Safe Environment
SOIA IMPLEMENTATION SCHEDULE
If a delegation has not already reviewed the Return to Play Guidelines, completed the training course, and spoke with Dawn Criss, they must do so before beginning Phase 1.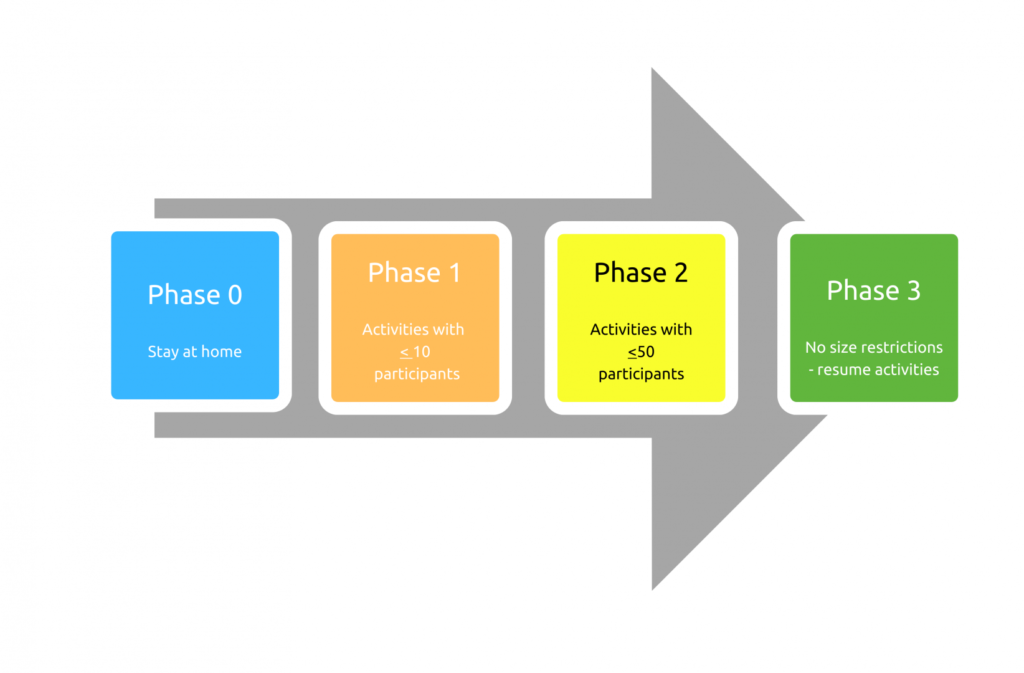 Below is our current list of sports that have been approved to begin practicing in groups of ≤10, along with our sports that are not approved.  As guidelines change, approved sports are also subject to change.
| | |
| --- | --- |
| YES | NO |
| Alpine Skiing | Basketball (team) |
| Athletics | Developmental Events |
| Basketball Skills (no team) | Flag Football (team) |
| Bocce | Soccer (team) |
| Bowling | Softball (team) |
| Cheerleading | Volleyball |
| Cycling | |
| Equestrian | |
| Figure Skating | |
| Fitness | |
| Flag Football Skills (no team) | |
| Golf | |
| Gymnastics | |
| Nordic Skiing (Cross Country) | |
| Powerlifting | |
| Roller Skating | |
| Snowshoeing | |
| Soccer Skills (no team) | |
| Softball Skills (no team) | |
| Speed Skating | |
| Swimming | |
| Tennis | |
Once you are done reviewing the guidelines, contact:
Dawn Criss, Senior Director of Sports & Programs; Special Olympics Iowa COVID-19 Representative
641-442-5874