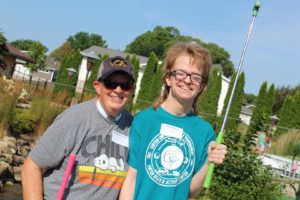 Meet Beau Vinton, a Special Olympics Iowa athlete who is active in many sports. Some of Beau's favorite sports include bowling, track and field, basketball, and Unified golf.
This past spring Beau qualified to compete at the Special Olympics Iowa Summer Games in the 4×100 run relay and mini javelin events. When he wasn't competing at the Summer Games, Beau decided to do the Healthy Athlete screenings that are offered to all athletes during the games. One of the Healthy Athletes disciplines is Special Smiles which gives athletes a dental screening. During Beau's Special Smiles screening, it was discovered that Beau was in urgent need of some dental work. Through Special Olympics Iowa's partner agencies, Beau was able to receive the dental work he urgently needed.
"We are very grateful for the Special Olympics Special Smiles program and appreciate the quick guidance on how to get Beau's dental work completed. Since his Special Smiles screening at Summer games, Beau has been able to have one tooth extraction as well as a full dental exam. He is now scheduled to also receive a filling," shared April Vinton, Beau's mother.
Each year thousands of athletes are given the opportunity to receive Healthy Athletes screenings – Special Smiles, Opening Eyes, FUNfitness, Fit Feet, Health Promotion, Healthy Hearing, and MedFest. Beau is one of the many athletes who were able to receive the urgent care they needed because they did a Healthy Athletes screening.