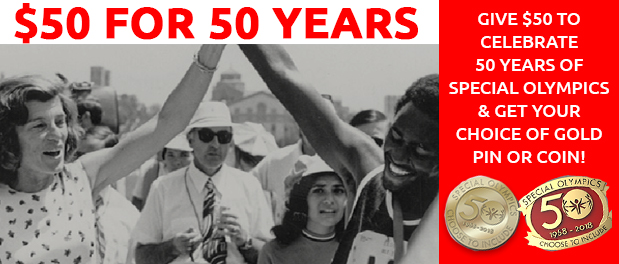 2018 marks 50 years for the Special Olympics. That means 50 years of our volunteers, staff, and supporters working tirelessly to achieve our mission – a world without discrimination. A world where individuals with intellectual disabilities can tap their untold potential and live their lives to the fullest.
Special Olympics Iowa asks you to join us in celebrating 50 years of bliss, bravery and empowerment by donating in our $50 for 50 campaign in honor of the 50th Anniversary of Special Olympics. With each $50 donation, donors will get their choice of a limited-edition commemorative 50th Anniversary Gold Pin or Gold Coin.
Special Olympics Iowa is so proud to be a part of what has been accomplished over the past 50 years. With 5 million served in over 172 countries, we have changed many lives all over the world. Help us continue to make a difference in athlete's lives.