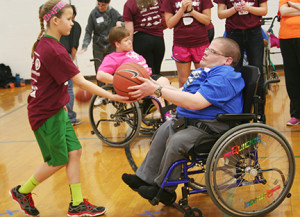 A Day-of Event Volunteer is anyone who has limited contact with athletes or who have contact with athletes accompanied by coaches or chaperones. All day-of volunteer activities take place the day of a sporting or fundraising event.
Examples: awards presentation, scorekeeper, announcer, photographer
Day-of Event Volunteers must be 16 or older.  If you are 15 or younger, you must be accompanied by an adult 18 or older.
To Become a Day-of Event Volunteer
You DO NOT need to complete an application. Simply sign up to work an event! However, you may be asked to complete a volunteer registration form before the event or a sign-in sheet the day of the event.
You may also be asked to show photo ID at events (for minors, IDs are only required to the extent available).
Sign up today for one or more of our upcoming statewide event volunteer opportunities!
For questions or to register a group of 10 or more, please contact:
Bryan Coffey, Unified Sports and Volunteers Director
515-986-5520 x119